686 total views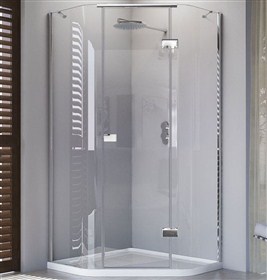 Shower enclosures are obtainable in various designs and sizes. So there will not be any problem in finding the most suitable one to choose for your perfect bathroom. The shower enclosure is sometimes referred to as shower cubicles. It can be placed anywhere in the bathroom if the plumbing allows it. Even though corners are the most preferred position you can fit one between two walls in order to save space in your bathroom.
Choosing the right enclosure is quite a difficult task. So here are some tips to guide you in the right direction towards choosing your shower enclosure:
1. Space in your bathroom
Shower enclosures provide a practical and stylish showering experience compared to the normal bath. Before buying a shower enclosure there are several things you need to think about. Think of your available space and decide what type of shower enclosure you need a regular shower cubicle or a walk-in shower.
2. Wall and positioning
It is important to decide where to place the enclosure, will it be in a separate enclosure area or in a corner? If you are positioning your shower enclosure in recess, you may only require a shower door instead of a full enclosure. If you are replacing your old enclosure, try to place the new one in the same position as the old one as this will require a lot less plumbing work since the drainage and water pipes are intact.
3. Types of glass
The type of door for different shower enclosures can be varied.
Here are some points to consider:
Choose the high-quality glass.
Consider the thickness of the glass, 8mm or 10mm tempered glass is highly durable, long-lasting, safe.
If cost is your concern and you do not like thicker glasses, then 4mm or 6mm glass are the best alternatives.
Check if the glass has an easy to clean protective coating.
Glass meets all the British Safety Standards. Check for EN-12150 and/or EN-14428 certifications in the specification.
Avoid the doors with plastic rollers because they might need replacing later.
Bi-fold and sliding doors require high-quality rollers to ensure smooth sliding action and long-lasting durability.
4. Protecting your walls
The interior walls of your shower enclosure should be given protection from water. This can be done with shower wall panels or tiles. Shower wall panels are the emerging popular alternative to tiles.
The features & advantages of shower panels:
Available in a broad range of patterns and colors with wood effect, stone designs to match your decor
Cost-effective. Costs less per sq. meter than tiles
Easy and quick to install. Simply cut your panel as per the required size and fix it.
Joins of shower panels are virtually invisible thus offer a seamless finish
Before attaching the shower panels make sure floors and walls are tiled and sealed correctly.
5. Tray or no tray?
Shower enclosures are available with or without trays. For those who look for an all-in-one solution, it is advisable to choose with a tray. Because the tray is specially designed to fit even the precise enclosure which minimizes the chances of leakage.
When you buy your shower enclosure and tray together you don't need to worry about tray size. But carefully consider the size of the shower door and tray planning a recessed shower. Shower enclosures come with their matching tray guarantees a good fit.
Buy your shower enclosure of quality toughened safety glass with this handy buying guide. Discover your dream shower enclosure at BuyGlass.in! India's first and foremost custom glass and mirror products online store.